Johannes Wätterbäck, better known as Uncle Green, started growing his own vegetables when he was in his twenties. Now, he, his partner Theres Lundén, and their children have some fields in different places, where they grow their own things. They live in a flat in the Swedish town of Västerås so Johannes knows how to grow things in the middle of the city, just like many other of our residents.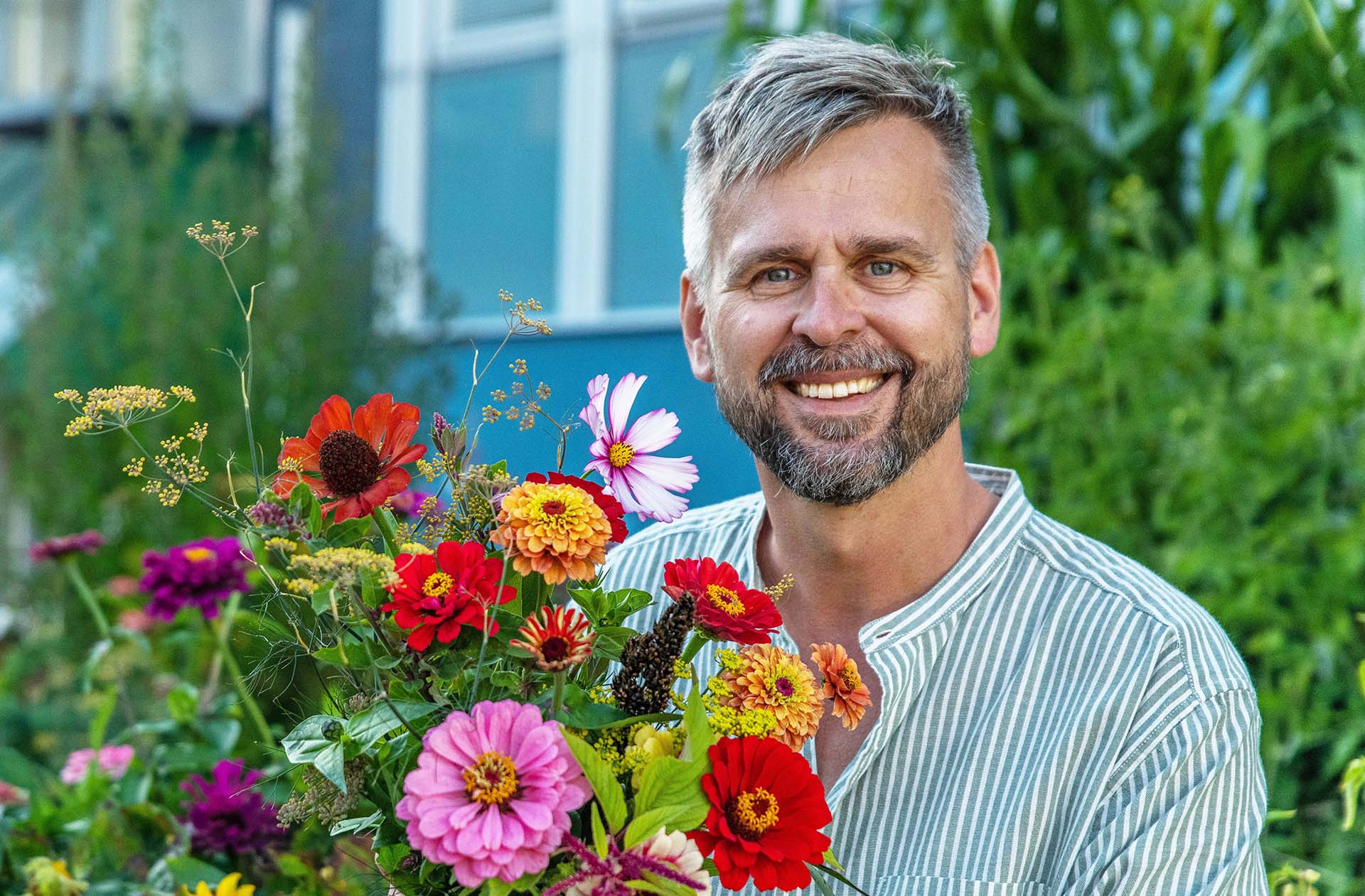 Image: Theres Lundén.
-A balcony offers many opportunities to grow things in big pots or buckets – one can grow peppers, aubergine and cabbage, for example. The best result is achieved if there are at least six hours of sun every day, but of course you can grow things in the shade as well. One just has to choose the right thing, like potatoes instead of chili. Leafy vegetables, like lettuce, is another alternative, says Johannes.
If you don't have a balcony, you can grow things indoors, too.
-Good things to grow indoors include herbs and pea shoots, but also some kinds of tomatoes and cucumber. When it comes to windowsills, I can recommend the Passandra cucumber. I have placed my four plants on a windowsill without extra lighting and they produce about 40 cucumbers.
Waste becomes compost
The Wätterbäck-Lundén family grows most of their food and has a recycling mindset. The things they grow become wonderful meals, and the food leftovers are either used for another dish, or composted.
The family members share their knowledge and joy through social media, lectures across the country and through books. The award-winning handbook "Alla fingrar gröna" (All fingers green) was their first book, going through all the steps from sowing to harvest.
– That book contains 36 good things that you can grow yourself: rhubarb, tomato, chili, carrot, cucumber. The book was created because I got so many questions about basic things, such as how deep to sow and how much to water you needed. I threw myself back to the age of 20 and thought about all the things that I would have needed to know back then, and of course all the mistakes I made along the way, says Johannes with a hearty laugh.
Johannes likes to experiment and tries new things all the time. He talks about how he has tested about 700 tomato varieties and about how beautiful the blood-red Amethyst Jewel tomatoes are, as well as the black tomatoes.
– There are a lot of facts in books and online. At the same time, it's fun to simply try it and I think everyone should dare to try more.
– When choosing a garden book, make sure that the book is written by a person who is a gardener – not everyone who writes books about gardening has the proper background, says Johannes.
"Growing things adds a whole new dimension to life – when you grow your own plants, life becomes so much more vivid."
Deeper perspective
Like most other gardeners, he thinks that the work itself is both enjoyable and fun, but there is also a deeper perspective.
– Growing things adds a whole new dimension to life – when you grow your own plants, life becomes so much more vivid. The garden makes everyday life an adventure and it would feel empty and boring if I could not follow the annual cycle of my plants, says Johannes.
He has seen, time and time again, how important gardening can be for people, not least in times when life suddenly changes as it did for many during the covid-19 pandemic. At a time when more and more people feel the need for a more conscious presence, gardening can be a way to go.
– For many people, life is spinning too fast, and society is focused on consumption. To grow things is to do something real – to create life with one's own hands. It opens up for a greater awareness that make many people feel better about themselves.
Wise words from Uncle Green
Plants need light. Most of them need a sunny location or extra lighting to thrive.
Fertilisers are important, but often forgotten. Use either pelleted or liquid fertilisers.
Check the plants every day. Do they look perky, do they need water, should they be replanted?
Find out the country of origin of the crop. Try to create conditions that are similar to the plant's original environment.
Dare to experiment. Don't be put off by the mistakes – they are part of the process of becoming a better gardener.
CAPTION:
Johannes Wätterbäck and his partner Theres Lundén have published three books: 'Alla fingrar gröna', 'Flera fingrar gröna' and 'Skörda, lagra, laga'. As 'Farbror Grön' (Uncle Green), Johannes leads classes and lectures at farbrorgron.se and in social media. Image: Tora Wätterbäck