Here in Aarhus' harbour in Denmark, the architectural gem Isbjerget stands out with its white and astonishing sculptural façade. Isbjerget is a striking property from 2013 with 208 homes, of which 49 are rental homes, divided into two to six rooms.
The property is called Isbjerget (the Iceberg), as its different elements reminds you of an iceberg. There are high parts, sloping and steep sides, angular towers, beautiful and alternating white and bluish shades. It is designed to resemble a floating iceberg in the North Atlantic.
Isbjerget, located by the old fishing port in Aarhus, is a place that has been transformed into a lively meeting place with beautiful architecture and a wonderful cultural life. Here, they have created an environment with old buildings, charming canals, beautiful greenery and more modern urban meeting places and architecture.
The Port of Aarhus, which is an area of ​​800,000 square meters, is one of Europe's largest ongoing development programs for ports.
Unusual and well-thought-out homes
Isbjerget's four buildings offer many different types of homes on one or more levels – varying in sizes from 55 to 227 sqm. The sloping sides of the façade give some of the homes unexpected spaces, giving them a touch of charm and the possibility of different types of interior design solutions.
Most of the homes have large balconies to the east and south, or even a private terrace that can be seen from certain angles. The balconies gradually change from strong blue to clear blue, creating a vibrant expression.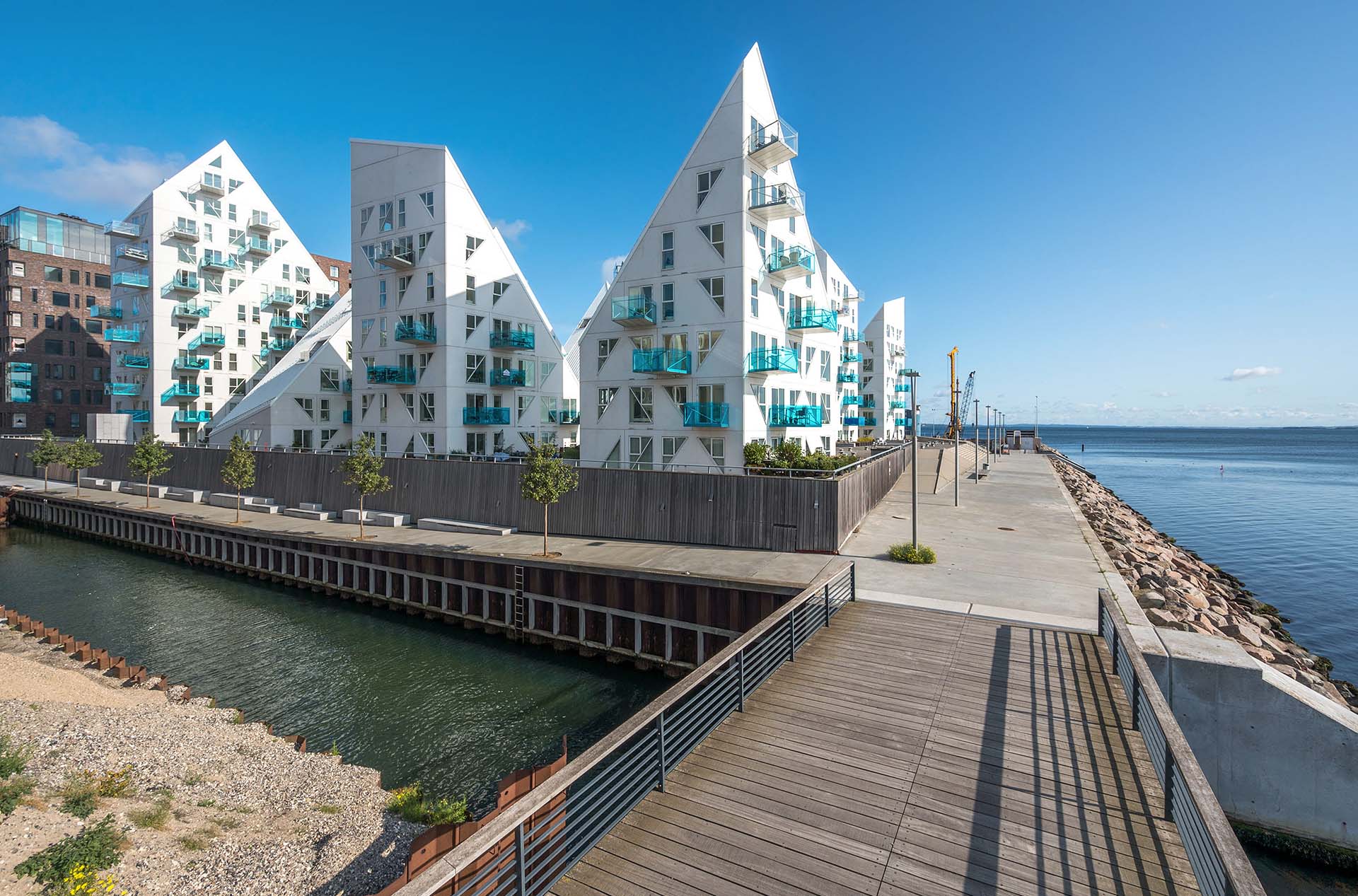 Sky-high ceilings and exciting height differences
To allow as many homes as possible to have a beautiful sea view, the façade is constructed with angular towers and sloping sides – inspired by floating broken icebergs. The highest part of Isbjerget – which is located at the back – is 12 storeys high and can thus look over the next building. The lowest building is located closest to the water.